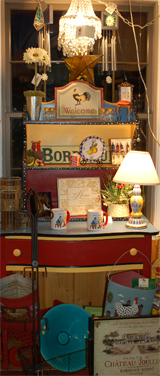 Visit our great Gift Shop with hundreds of unique gifts.

"A guest never forgets the host who had treated him kindly." - Homer, The Odyssey


Munising Gift Shop




Dogpatch Gift Shop Munising Michigan




Souvenirs, Unique Handmade Gifts, Clothing, Lamps, Jewelry and more!



Located in Michigan's beautiful Upper Peninsula - downtown Munising on Superior Street.


Dogpatch - a great place to eat, meet with friends, and
shop for that unique item.

Our Friendly Staff


Looking for a one of a kind item? Our friendly staff will help you select from our hundreds of great gifts.



Shown to the right - Gift Shop Staff holds up a handmade beaded necklace. Created locally, your souvenirs are sure to bring smiles.




A great place to pick up some clothing during your trip. Sometimes nights can be chilly in the Upper Peninsula and the Dogpatch can help.

Sweaters, T-shirts, and more!


We offer a fabulous selection of sweaters, hats, t-shirts, and button-up shirts, for the entire family.

Come in and check out our great line of clothing for all ages. Find your quality clothing here at the Dogpatch!

We also carry great household items, knickknacks, candles, mugs, collectibles, clocks, pictures, and much more!


Make sure to visit our Restaurant Page - We're fetchin up scrumptious Vittles from the early mornin' sunrise, and when the days half thru - till the sun goes down on the mountain - this here's the place for 'lishus "Country Fixins!"
We look forward to your visit to the Dogpatch Restaurant of Munising!